Doctor Who
Shada
by
Douglas Adams
Once upon a time there was a great and clever man named Douglas Adams. In 1978 he pitched an idea to the Doctor Who Production Team titled Doctor Who and the Krikkitmen. The idea was dismissed, though went on to become his most famous work - The Hitchhiker's Guide to the Galaxy. Nonetheless, Adams went on to perform the role of Script Editor for the famed Key to Time themed Season 16 of Doctor Who, penning one of that season's stories himself - The Pirate Planet. The following season, whilst leaving the editor's chair to work on his new radio show as noted above, he contributed two further stories - City of Death, and Shada. The former is oft voted amongst the Top 10 stories of all time, whilst the later is the only Doctor Who story that actively began production, yet failed to reach completion (in this case, due to striking BBC workers).
Originally a story about the Doctor retiring from his life of adventure, producer Graham Williams forced Adams to revise, coming up instead with a different retired Time Lord that the Doctor goes to visit. With the location shoot finished, and 1 of 3 studio sessions in the bag, the strike struck, causing the story to lose its second studio session. By the time the strike stroked, WHO's studio time was assigned to other projects, leaving the story with only approx 50% complete. New producer (and former production manager) John Nathan-Turner attempted to begin his studio time for Season 18 by completing the story, however this never materialised, and the story was eventually abandoned. But it didn't end there…
Douglas was never a man to let something go, so one of the main characters from the story, Professor Chronotis, was reused in Adams' story Dirk Gently's Holistic Detective Agency. But it didn't end there…
Several years later for the show's 20th anniversary, Tom Baker elected not to return for the now awkwardly titled "The Five Doctors". Whilst a wax-work model of Tom Baker was used for promotional material, it would not be suitable for the actual story - so instead JN-T used excerpts from the Shada footage, spliced into the new story, and giving fans a glimpse of Tom and Lalla in action (leisurely punting down a river).
After Doctor Who was cancelled, JN-T remained active with the show's rotting corpse, patching together clip-shows direct-to-VHS for BBC Worldwide. The most ambitious of these probably was his final attempt to resurrect Shada, bringing Tom back to introduce the "missing" story, adding some special effects to the footage that had never actually been edited previously, cutting back to Tom now and then to fill in the gaps, achieving a result that almost made it feel like you really were watching an entirely new episode of Doctor Who. Almost. But it didn't end there…
In 2003, King of Doctor Who Audios, 8th Doctor Paul McGann recorded a new version of Shada, complete with Lalla Ward as Romana II, with rather un-ambitious animation designed for a webcast. After its webue, it was then released with Tom's VHS version on DVD. But it didn't end there…
In 2011, long time series fan and saviour of several actual missing episodes, Ian Levine, self funded an animated reconstruction of the story. Although missing Tom Baker, most of the other cast returned to offer their voices. I've not watched it… But it didn't end there…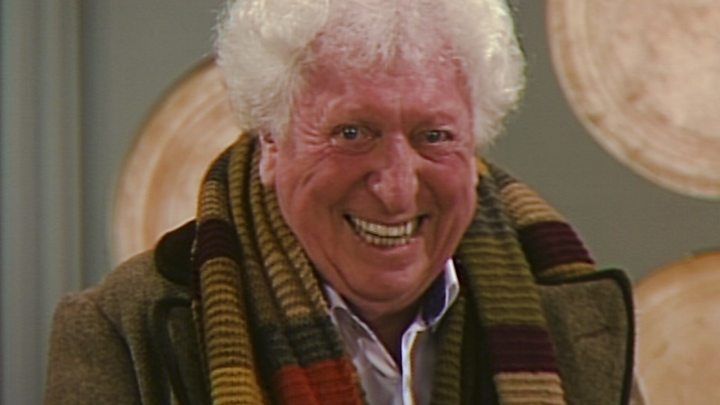 Finally, possibly, we think, the story of Shada finally finally came to a close or will do shortly when Tom again returned, with other cast members, to create a definitive new version of Shada, using the original footage, combined with brand new official and better quality probably animation. The story will finally be released in its final form in December 2017, but will also see cinematic release in some countries for a brief outing - check your local cinemas now!
The End.