G'day,
Logically, I know the answer… But logic and me - well - it's complicated.
I have a 2010 Mac Pro 5,1 Quad Core 2.8Ghz with stock GPU, 8GB RAM, a 512GB SSD in the lower optical bay, plus numerous spinners, running Sierra, with 2 x 23" ACDs. It's the base model Mac Pro 5,1, but it is still going strong touch wood and performs well enough for my tasks.
That said… for some time I've been considering my options for what comes next. As I see it, I have two paths, and both involve keeping my 23" ACDs:
2020 M1 Mac Mini 16GB/ largest SSD possible, PLUS a 6 bay NAS (for current and future needs) – both to be purchased 2nd hand, plus adapter/s to hook up the 2 ACDs, at a cost of around $2k.
OR
a 12 Core Mac Pro 5,1 with more RAM, a high end native graphics card to run the latest OS possible, PCIe card for the SSD, better USB and Bluetooth cards (for Air Drop etc).
Last year, when pricing a 12-core machine, I was looking at around $2k. I'm wondering now if the transition to Apple's M series chips is going to see a glut of 12 core Pro's on the market. If I can pick one up cheap, then price wise, it'll be better to go with the old… rather than the new.
I've flip flopped on the idea over the past year… but more and more am leaning toward the 5,1, especially given my reticent feelings toward supporting Apple's non-upgradeable machines.
There's a YouTuber who repairs Macs/iPhones etc - he has posted several videos of his 5,1 that he's maxed out, and on paper it certainly competes with the much more modern machines. I haven't priced his particular setup, but - shows that it's feasible in terms of achieving something comparable…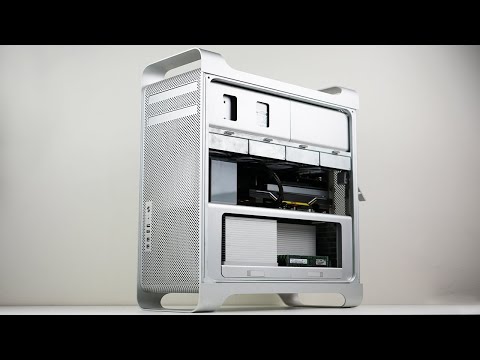 Are y'all embracing the M-line, or staying in obsolescence?
cheers
cosmic